The National Financial Capability Study (NFCS) is a large-scale, multi-year project that measures Americans' financial capability. The FINRA Investor Education Foundation commissioned this national study in consultation with the U.S. Department of the Treasury and other federal agencies. The NFCS was first conducted in 2009 and then repeated every three years. It aims to benchmark key indicators of financial capability and evaluate how these indicators vary with underlying demographic, behavioral, attitudinal and financial literacy characteristics. In each wave, the study deepened the exploration of topics that are highly relevant today.
The NFCS provides information on Americans' financial capability drawing from a sample of over 25,000 respondents. The large sample size allows researchers not only to study financial capability among the entire population, but also to slice the data in different ways to provide detailed studies on population subgroups.
The study assesses financial capability by looking at four key components:

Click Here for the 2018 Full Report of National Findings ➤
GFLEC has been involved with the NFCS study since its inception. Director Lusardi has been academic adviser to the FINRA Investor Education Foundation since the first wave of the study, assisting with the design of the survey instruments and co-authoring the reports. GFLEC and the FINRA Investor Education Foundation also co-hosted the release of the 2012 data and the release of the 2015 data at the George Washington University.
Financial Resilience Infographics (August 2021)
Release of the 2015 National Financial Capability Study | July 12, 2016
Our expertise and experience with the NFCS data can give you unprecedented insights on the financial capability of population segments of interest to your organization. Our analyses will inform your programs and will help you develop targeted and effective solutions.
Working with GFLEC will position you to become a thought leader in financial capability. We collaborate with several major institutions in the United States and around the world to analyze the NFCS data. Our team can prepare reports, white papers, policy briefs, infographics, presentations, and other materials customized for your needs.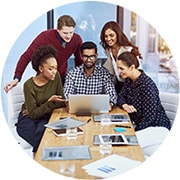 Work with GFLEC to
Inform your programs
Advise your policy and corporate decisions
Compare data to national benchmarks
Utilize evidence-based methods
Become a thought leader in the area
Create media attention
Supporters of our NFCS Research Include
Filene Research Institute
FINRA Investor Education Foundation
National Endowment for Financial Education
PwC
TIAA Institute
GFLEC's work on the NFCS started with the first wave of data released in 2009. Some of our research efforts have yielded important findings. You can find samples of our work in the links below.